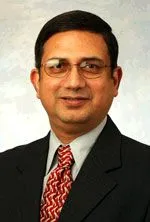 Kartik J. Desai, MD FACP
Dr. Desai is a board certified Internist since August 2005 with 12 years of experience practicing in the heart of Ellicott City, MD.
In 2007, Dr. Desai opened Desai Medical Center in Ellicott City, MD. During this time, he served on the medical staff at Ellicott City Health and Rehabilitation Center, White House on the Bay Assisted Living, Heartlands Senior Living Village, St. Agnes Hospital, and Howard County General Hospital. This provided him a full spectrum of management cases such as outpatient, inpatient, emergency care, ICU, assisted living, and nursing home care.
Since switching to a private practice setting, Dr. Desai has built a successful and reputable internal medicine practice in the heart of Ellicott City, MD. He has accumulated a large patient population hailing from 100 different countries, all diverse in age, cultural, ethnic, and socio-economical backgrounds. This diversity has allowed him to cover a wide range of medical conditions such as anxiety, depression, endocrine, hypertension, and travel medicine.
Dr. Desai is also a proud proponent for integrating technologies to improve and streamline patient care. Desai Medical Center has a custom tailored EHR equipped with lab and radiology interfaces, electronic prescription capabilities, telemedicine video conferencing platform, and a secure patient portal. Dr. Desai is also registered with the Chesapeake Regional Information System for our Patients (CRISP) and is involved in their Prescription Drug Monitoring Program (PDMP), Encounter Notification Services (ENS), and Doc Halo program to strengthen health information exchange across the State of Maryland so he and other CRISP providers can improve overall patient care and reduce unnecessary ER visits and medical costs.
Dr. Desai was awarded Chief Residency during his Internal Medicine residency training at Jamaica Hospital Medical Center, NY. After successfully completing his internal medicine residency and board certification, he was employed at Upper Chesapeake Health as a Chief Hospitalist, covering two major hospitals in Hartford County, including Upper Chesapeake Medical Center in Bel Air, MD and Hartford Memorial Hospital, Havre De Grace, MD. His time as Chief Hospitalist provided him with extensive experience treating many different medical conditions ranging from routine, urgent, to emergent.
Dr. Desai is an active member of the American Medical Association (AMA), American Board of Internal Medicine (ABIM), American College of Physicians (ACP), and MedChi. In 2015 he was accepted as a Fellow of the American College of Physicians (FACP) and in 2016, he was asked to be a Designated Provider Representative for Carefirst's PCMH Program. Dr. Desai is also an affiliated preceptor for Georgetown University, George Washington University, University of Maryland School of Nursing, Bowie State University, Walden University, University of Cincinnati, and Chamberlain University.
Dr. Desai speaks English, Gujarati, Hindi, Marathi, and Urdu and is known for his pleasant and approachable nature. He is a dedicated, highly professional, and well-experienced Internist whose passion is to provide the best care to his patients.
---
Shabnam Niroomand
Shabnam is our office manager at Desai Medical Center. She has been with Desai Medical Center since 2014. She graduated from University of Maryland, College Park with a degree in Nutrition and Dietetics. Shabnam is very friendly and enjoys talking to patients about proper nutrition and lifestyle modifications to help them achieve a healthy and balanced lifestyle.